Join or Die: Classic Cyclone Studios/3DO Uprising games go digital
Join or Die: Classic Cyclone Studios/3DO Uprising games go digital
LOS ANGELES, CA (March 15, 2016) — RetroismTM , a leading publisher and distributor of classic and classically inspired games, and Prism Entertainment announced today a long term publishing and distribution agreement that will bring six classic 3DO games to a whole new generation of fans.  The first two games in the agreement will arrive on Good Old Games (GoG) on March 17th with Uprising: Join or Die and in late April, the sequel Uprising 2: Lead and Destroy. Also planned for Spring/Summer 2016 release, Requiem: Avenging Angel, Killing Time and Captain Quazar. Retroism's plans for BattleTanx will be announced at a future date.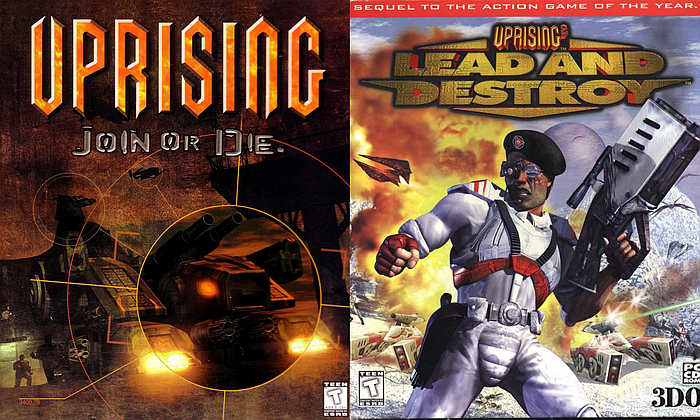 "We're very excited to have signed a digital distribution agreement with Retroism that will bring these classic Cyclone Studios and 3DO games to today's gamers," said, Jamie Cook, CEO of Prism Entertainment. "I'm thrilled to have the opportunity to work with Retroism and to showcase the pure passion for gaming that the development teams at Cyclone Studios and Studio 3DO shared," added Cook.
"In full disclosure, Jamie and I spent a lot of years together at 3DO, back in the day, and we can attest to the fact that the gaming culture we both knew and loved is very much alive and well represented by these games," commented Michael Devine, Tommo's VP of Business Development. "Retroism was created to bring back a lost generation of games and give consumers easy access to playing them on today's interactive devices," added Devine.
The first two Uprising games will have an MRP of $5.99 on GoG and will be on sale for the first week of release at 25% off.
Games Announced Today:
Uprising: Join or Die (1997) (Cyclone Studios)
Uprising: Lead and Destroy (1998) (Cyclone Studios)
Requiem: Avenging Angel (1997) (Cyclone Studios)
Killing Time (1996) (Studio 3DO)
Captain Quazar (1996) (Studio 3DO/Cyclone Studios)
BattleTanx (1998) (3DO)
For a pdf version of this press release, please download here.
About Prism Entertainment:
Prism Entertainment, Inc., based in Palo Alto, CA, holds the worldwide publishing rights to numerous video games and computer game properties that were originally published by The 3DO Company and its affiliates. Prism's mission is to introduce today's gamers to its classic games that put players right in the action without needing to master a manual.
BattleTanx, Captain Quazar, Cyclone Studios, Killing Time, Prism, Requiem: Avenging Angel, Uprising, and their respective logos, are trademarks or registered trademarks of James Alan Cook in the U.S. and other countries. All rights reserved.
About Retroism:
Retroism is a haven for timeless games, bringing classic games from all-time great brands and publishers like MicroProse, Accolade, Spectrum Holobyte, Atari, Infogrames and many more to today's gamers on Retroism.com and through the hottest digital download sites like Steam, GOG.com, Amazon, Walmart.com and more.
Website: retroism.com
Contact: retroism.com/contact
Facebook: facebook.com/retroism
Twitter: @retroismgames
YouTube: youtube.com/retroismgames
Instagram: instagram.com/retroismgames
Pinterest: pinterest.com/retroism